Soooooo if you follow me on Instagram, you probably know that in the winter of 2020—right before Coronavirus hit the world—I lost over half of my hair in just a couple months time. 
I have spent months pursuing whether there are any medical reasons for it or if it was certain products I was using???? Note: I was using these DevaCurl Products below for 2-3 years and stories broke all over the national news in Feb 2020 about DevaCurl causing hair loss and other side effects (See more articles about the DevaCurl Lawsuits here.)
So, I quit these products IMMEDIATELY. 
Regardless of the reasons for why my hair was falling out, my goal has become growing it strong and growing it longer — 7 times what was stolen from me! (Proverbs 6:31)
In full transparency, I have been in a really dark place about it all. My hair loss happened right before my book launch of my book, Fear Is Not The Boss of You and the loss of my 12 city book tour because of coronavirus. With all that plus continuing to see my hair get shorter and shorter and thinner and thinner each day…. It was a rough time for me.
I have been posting several pics of my hair loss because first of all, so many women can relate and I had no idea. And I know with a big platform that if I find any causes and solutions that I want to share them with my audience. 
So, finally now in September I am ready to share a few things that are helping.
Here's a photo of me in March vs August this year. I didn't even recognize my hair in the spring (I guess if you're going to have a major hair loss that at least it was the worst when the world was shut down).
You can see it's coming back—finally! It's growing in length plus getting the volume back that I once had. I still have a long way to go until the damage has been repaired and my hair restored BUT I AM HOPEFUL because I am seeing progress.
In my Instagram DMs I get tons of messages each day about which products I'm using now.
Because I had been the one that recommended DevaCurl products to my followers years ago, I have been really hesitant to share anything new that I'm using until I'm certain it's worth it.
Plus it's taken several months of me using them to figure out what my hair is responding to the best. 
So with all that being said…here are the products I'm using. 
Washing
Aveda:
Tiffany at Salon D'Paul who has colored my hair for a long time told me my hair is so dry that I need a ton of extra moisture. This is what she recommended for my hair since it's so dry and curly and tends to get frizzy easier. When I use these Aveda products my curls clump together better and don't frizz. 
The other advantage of using these Aveda products is they've been around forever and ever—which means they've essentially stood the test of time and have longevity on the market. 
I only wash my hair about every 4 days and I alternate between the conditioner and the masque. The masque is amazing because it makes my hair soooooo soft but that also means my hair is so soft that I lose a little volume. That's why I alternate. 
Aveda Dry Remedy Shampoo
Aveda Dry Remedy Conditioner
Aveda Dry Remedy Masque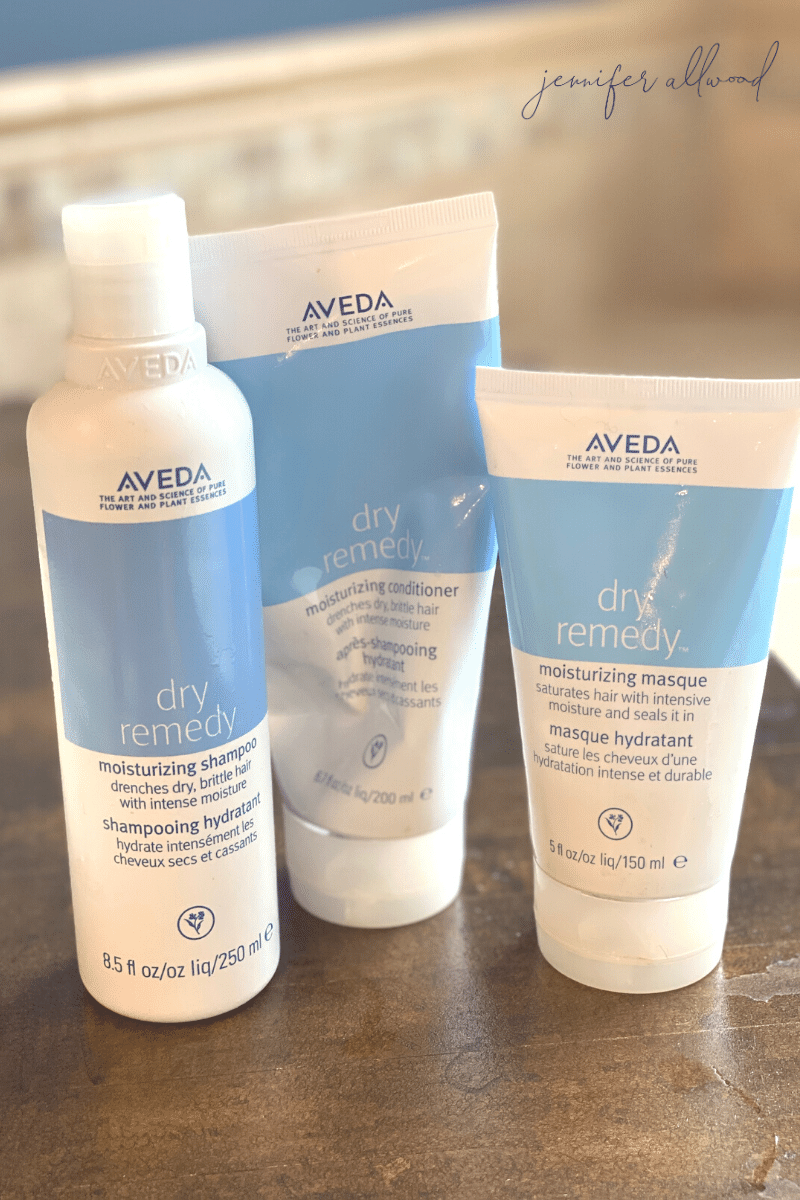 Innersense:
I have also tried the Innersense line since so many of my Instagram followers suggest it.
Innersense is definitely my second choice. It is very "clean" on the Healthy Living and Think Dirty app.  The brand's foaming mousse is absolutely amazing! And one thing I love to do is mix gel and mousse together on my hair!
So those are the shampoos and conditioners that I like.
Innersense Hydrating Cream Hairbath
Innersense Conditioner
Innersense Styling Gel
Innersense Volumizing Foam
Styling:
I'm using the Aveda Be Curly right in the shower after I've washed it. I love it because it reduces frizz and adds shine.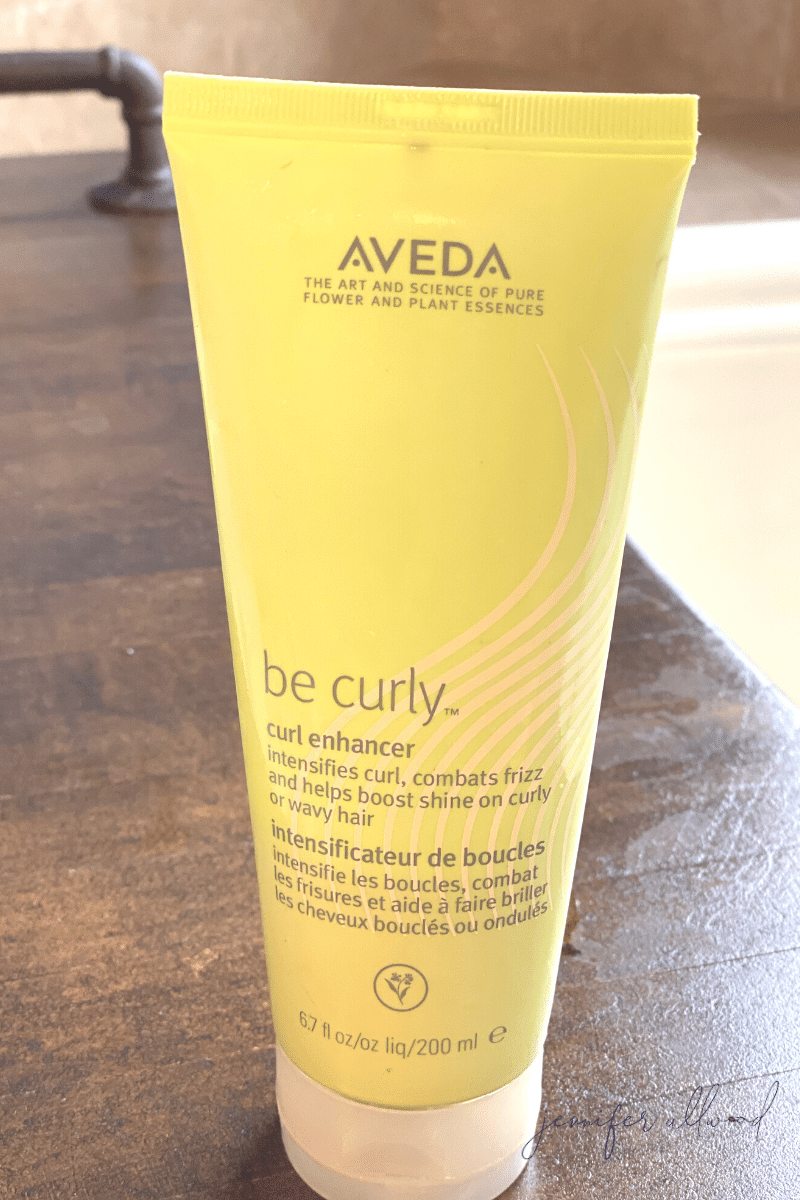 I no longer use the Wet Brush in the shower. You maybe remember my Instagram stories (Find the IG Highlight Link here to watch all those stories) about how disgusting my brush was when we opened it up! Sooooo much mold and sooooo stinkin' grossssss!
So this is the new brush I'm using. Find it here on Amazon. It's also a wet brush but this one won't mold inside. 
Then I use this Curls Blueberry Bliss Jelly from Amazon. It's my tried and true favorite! I've tried others just to see if I'd like them and I always come back to this one! It's thick. It makes my curls curlier. They hold better and frizz less. 
Blueberry Bliss does have a leave in conditioner that I will use on occasion also. These are super inexpensive products that my hair responds well to.
Other things I've been trying and had luck with so far:
These Nature's Bounty Biotin Vitamins  are something that I saw a lot of other women in a DevaCurl Hair Loss Facebook Group have really liked. I take 5000 mg/day. I believe that is 2x what is recommended but that's what I saw someone recommend and so that's what I have been doing. Bonus: they taste like candy!
I take them everyday and I feel like these are a huge reason for the quick regrowth I've seen—they've been a GAME CHANGER for me!
The other thing I've been doing daily is using a roller of clary sage, lavender, cedar wood and rosemary Essential Oils.
My friend, Carrie Robaina was the first one to recommend and give me these four oils to try. She put 20 drops of each oil in a roller bottle and I put it on my temple/hairline every night. Since most of my hair loss has been right around my face that's where I concentrate most of the oils. 
Here's a link to exactly which oils and how to order them: https://ediewadsworth.lpages.co/essential-oils-sales-page-jennifer/ 
Now even tho my hair is growing back, it's still much shorter around my face which is hard since my hair used to be so full there. So, I have been using hese hair extensions. I only use a couple to frame my face. I totally snagged them at a garage sale. They were straight but Tiffany curled them for me and colored them to be sure they match my hair color well.
This hair loss journey has been a frustrating one for me. I didn't realize how emotional hair loss could be and how much my hair had become a large part of my identity.
If you want to see the full video of how I do my curly hair from shower to styled, click here to see my process plus additional products I use!
So I am hoping these products will help you too.
Big hugs to all who suffer hair loss. 
Xoxo
You can save this post to Pinterest now or Subscribe to my email list so you don't miss my next post!