Did you know you can paint velvet fabric? Yes, paint it. Check out the blue side of this chair which is PAINT! Looks like a totally new piece of furniture, doesn't it??? And the best part is….. IT STAYS SOFT!!!!! It still FEELS soft like velvet instead of feeling a little harder like patio furniture.
Basically you are "dying" the fabric on this technique so instead of the paint sitting ON TOP of the fabric (and drying down hard and stiff), you work the paint INTO the fabric to essentially "dye" it. So much better!
UPDATE: Heirloom Traditions discontinued its FAB products, instead it developed a new product called Finish-All that paints EVERYTHING with no priming or sealing INCLUDING FABRIC. When I wrote this post, Finish-All was not available, but now you can find it in 8 colors on Amazon here. Although I didn't use Finish-All in this makeover, it is the same painting process with less steps, but also less color options.
This post contains affiliate links for products I use and LOVE. I will make a small commission off of these Amazon links at no charge to you. Thank you!
This post may contain affiliate links. I only recommend products that I have used and love!
I was looking for chair that I could take with me to the Greater Kansas City Home and Garden Show. Of course, when you are LOOKING for an ugly chair to take to a Home Show, you can find nothing but cute velvet chair. And when you are looking for a cute velvet chair, you only find ugly ones. Lol. Isn't that the way it works?
So we bought this chair for cheap on Craigslist. And I wanted to paint it a bold color that would show a complete difference in color and stand out on stage. So I went with this one:
It's called "Graceland Blue", the signature color from the incredibly talented Lori Preece of Thee Velvet Glove. Unfortunately this color has been discontinued. You can get the color pretty close by mixing 50/50 Danube & Naval.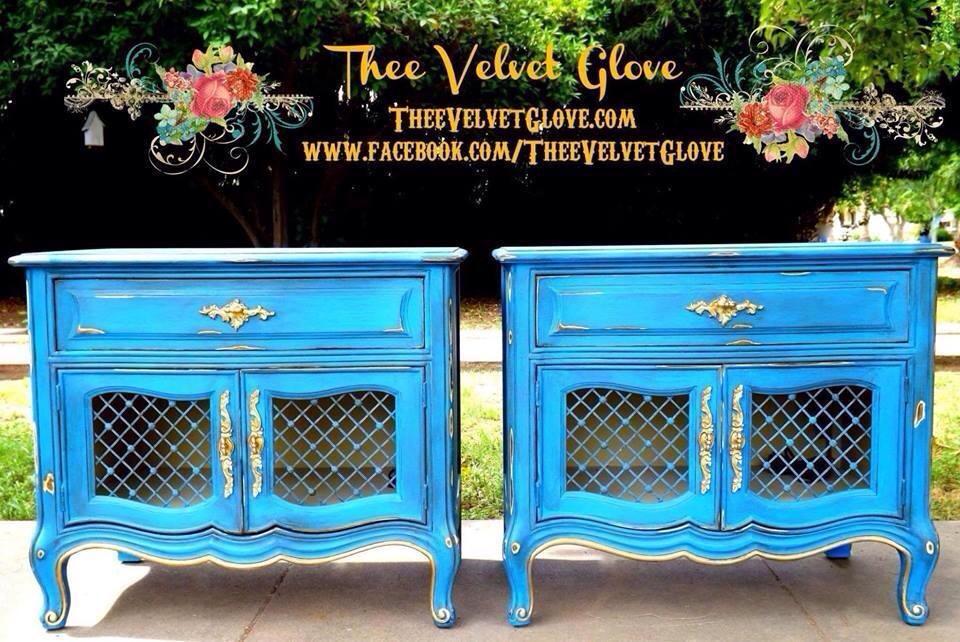 This is where I first saw the Graceland Blue color….. on end tables. Seriously, is that color not amazinnnnnnnnnnnnnnnnnng?
Of course you paint velvet using any color of any chalk type paint you want. And here is your complete supply list to paint velvet:
FAB clear (fabric paint)
Chalk type paint
Sanding block (fine or medium grit)
Chip brush
Gloves for your hands
In an old coffee container or bucket of some kind, mix the following:
1 part FAB clear (fabric paint) + 1 part chalk type paint (the blue) + 5 parts water
This is a very thin, very runny mixture like the consistency of milk. You will not need much at all to paint velvet. We used less than a quart total of this mixture on this 1/2 chair.
Brush the first layer on. Try to work it into the tufting and all the seams. If the cushion CAN come off, take it off. Otherwise, just work your brush into the cracks. And if it's easier to work the color into the fabric with your glove and hand, do that.
Let it dry. And this layer may look scary when it's done. But DON'T PANIC YET!!!!!
We decided to just go right over the nailheads with our paint. We could have put Vaseline on them (because Vaseline can't be painted over), but since this technique is done with a chalk type paint and that sands off easily, it just came right off with the sanding block when we were done!
After the paint is dry, next comes the most important part: SAND THE PAINTED FABRIC WITH A SANDING BLOCK. This will make the fabric go back to feeling soft!!!!
Then do another layer of painting and sanding and another coat of paint and sanding until the color is as deep as you want it! We did 3 coats on this chair to get it all to look even and to get the intensity of color that I wanted.
And there it is… with gold painted legs to match the nailheads and all!
(Photo compliments of the very talented Melissa Rieke Photography)
It was a total hit at the Home Show.
And speaking of "hit"….. it was great getting to see Chip and Joanna again! I will do an entire blog post on them and our fun interview soon!
Until then, if you have an old velvet sofa or chair or ottoman or whatever….. dyeing the fabric vs. painting it like I taught you in THIS POST is the best way to keep crushed velvet soft!
A few questions I get asked often are:
Will it crack? Absolutely not.
Will it come off on your clothes? No, I sat on it multiple times to test it.
Will it need redone eventually? Well, it will wear like any fabric does. Which means eventually everything shows wear after years and years of use.
Heirloom Traditions is the only company that carries this fabric paint. Yes, I have tried the "other stuff" and mixed it with fabric softener and water and oh my goodness…. it was a stiff mess. And please pick up one of my favorite chalk-type paint brushes while you're shopping. These oval brushes are worth the investment and the best at working with chalk-type paints!
As long as you sand after, this velvet will remain soft! Go ahead and paint velvet!
Happy painting,
Jen
Did you know you can also paint leather? Check out my blog post where I make this leather chair new again . I also have a fabulous pink stool I painted using this same FAB product that I used to paint velvet!
If you're feeling paint happy, check out my FREE video of 10 Easy Updates you can do to your Home BEFORE DINNER! Many of these easy DIY project involve a little paint and a BIG IMPACT!
Sign Up for My Weekly Emails!